Aquatic Therapy
Swing for the Stars offers aquatic therapy services as a unique way to help improve your child's sensory processing abilities, motor skill development and social skills. Aquatic therapy services are run by an occupational therapy, physical therapist, or speech therapist and run for 8 weeks at a time.
Aquatic therapy is therapy provided in a pool setting. Therapists use the water and specifically designed activities to enhance, restore, maintain, and/or increase a child's functional abilities. Children will experience an increase in organized movements in the water, which can be translated to land-based activities for an overall improvement in daily functional activities. Water is an environment in which children can move freely. The physical properties of water allow for increased support, increased time for movements, and resistance for strengthening.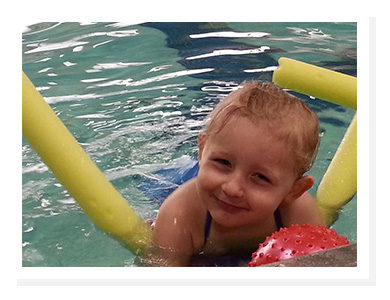 What areas of need are addressed through Aquatic Therapy?
Who is Aquatic Therapy Appropriate for?
The great thing about aquatic therapy is that it is appropriate for any ability level. There are many benefits to aquatic therapy as a compliment to your child's land-based therapy. These include:
Meet Our Dedicated Staff
Our staff understands that each child has unique needs when it comes to therapy services. We provide collaboration throughout the therapy process to help your child achieve their greatest potential.